ARTIST'S STATEMENT
When it comes to writing about my work I experience a certain reluctance. Words tend to define and nail down ideas and to quote Nietzsche "words make the uncommon common". My sculptures are objects of reflection and contemplation. The head that I employ in most of my work is generic, non-specific, genderless, egg-like in form and intention. I look on them as a mirror which reflects back the observer's experience in new combinations and associations. The works are open ended with no didactic intent other than to see new possibilities.
I work in metal because I love the physical tactility of it and the processes involved in transforming metal into sculpture.
The artist with "Daedalus".
A photo essay of the process.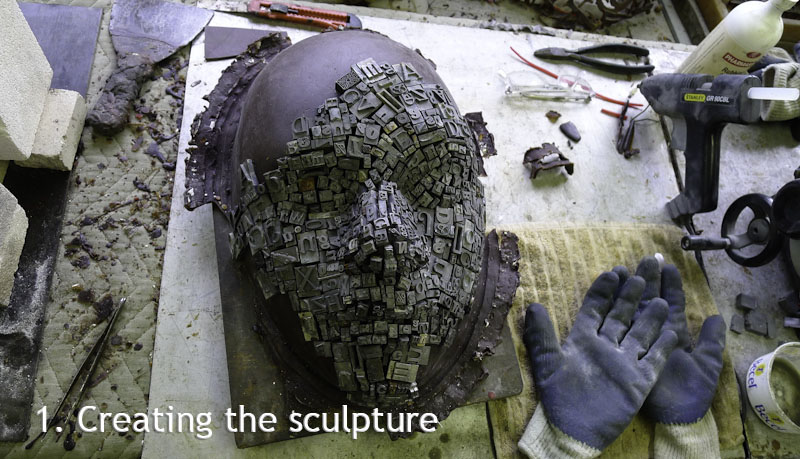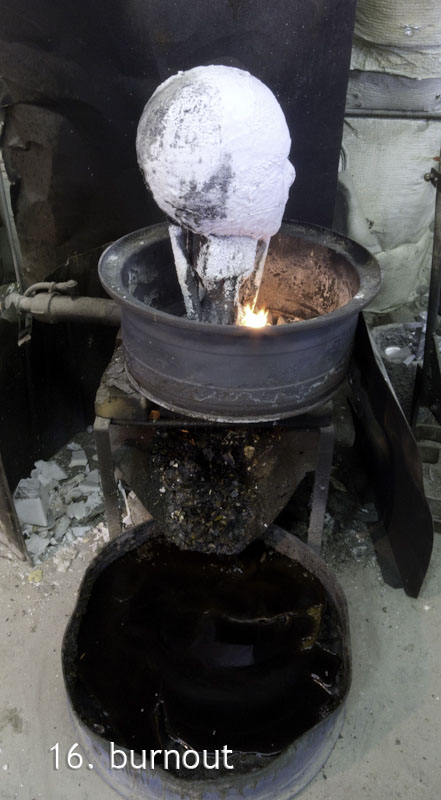 CURRICULUM VITAE
Education:
Master of Fine Arts, 1969-1971
Cranbrook Academy of Art
Bloomfield Hills, Michigan
Julius Schmidt & Michael Hall instructors
Bachelor of Fine Arts, 1965-1969
Mt. Allison University
Sackville, N.B.
Lawren Harris, David Silverberg, Jeff Poklen, David Samila, George Tiesen instructors
Awards:
Canada Council B Grant 1969
The Mississippi Mills Cultural Achievement Award 2005
Shows:
Solo Show Sivarulrasa Gallery, Almonte, 2016
Solo Show Espace Pierre Debain, Aylmer, 2015
Solo Show Wallack Galleries, Ottawa, 2014
Solo Show Galerie d'Avignon, Montreal, 2013
Two-person Show Christine Klassen Gallery, Calgary, 2013
Group Show Parallax Art Fair, New York, New York, 2013
Two-person Show Oeno Gallery, Bloomfield, 2011
Solo Show artFirm Gallery, Calgary, 2010
Solo Show Galerie d'Avignon, Montreal, 2009
Solo Show artFirm Gallery, Calgary, 2006
Solo Show Galerie d'Avignon, Montreal, 2006
"Evocations" Karsh/Masson Gallery, Ottawa, 2004
"Progressions" The Ottawa Art Gallery, Ottawa, 2003
Solo Show Galerie d'Avignon, Montreal, 2002
Group Show Public Art at Arts Court, Ottawa, 2000
Changing Hands Karsh/Mason Gallery, Ottawa, 1999
Solo Show Dominion Gallery, Montreal, 1998
Solo Show Dominion Gallery, Montreal, 1991
"Incorporation" La Galerie D'Art Lavalin, Montreal, 1989
Solo Show Dominion Gallery, Montreal, 1988
Solo Show Wallack Galleries, Ottawa, 1987
Solo Show Dominion Gallery, Montreal, 1985
Solo Show Water's Edge Gallery, Kingston, 1985
Solo Show Gallery Moos, Toronto, 1984
Solo Show Wallack Galleries, Ottawa, 1984
Two-person Show Pollock Gallery, Toronto,1980
Solo Show Wallack Galleries, Ottawa, 1980
Group Show Visual Arts Ottawa Survey Show, Ottawa, 1975
Two-person Show Merton Gallery, Toronto, 1972
Collections:
Art Bank, Ottawa
Care Canada
Carleton University Art Collection
City of Ottawa's Corporate Art Collection
McIntosh Gallery, London ON
Musée des Beaux Arts, Montreal
National Library, Ottawa
Owens Art Gallery, Sackville N.B.
R.M.O.C. Collection, Ottawa
Radio Canada, Montreal
Robert McLaughlin Gallery, Oshawa
Publications:
HEADY MATTER: Dale Dunning", Dorota Kozinska, Vie des Arts, October 02 2013 "diacritics": A Review of Contemporary Criticism Volume 40, Number 4, Winter 2012
"Sculptures and hangings in harmony" Kay Kritzwiser, The Globe & Mail, May 27, 1972
"Ottawa gets an art party", Maureen Peterson, The Ottawa Journal, May 16, 1975
"Sensual beauty...", Kathleen Walker, The Ottawa Citizen, Sept. 11, 1976
"The Season in Review", Anna Babinska, artmagazine, Sept./Oct. 1980
"Soft features in hard metal" Nancy Beale, Ottawa Citizen, March 19, 1987
"The selling of a vision", Lisa Moore, Whig-Standard, May 10, 1985
"Drôles des machines", Marie-Michele Cron, Le Devoir, June 27, 1991
"Metal heads", Dorota Kozinska, The Gazette, Montreal, July 25, 1998
Represented by:
Christine Klassen Gallery, Calgary
Galerie Archambault, Lavaltrie PQ
Sivarulrasa Gallery, Almonte ON
Contact: